The Board of Directors created a strategic plan in December, 2015. Our goal has always been the same, make a profit and share it through dividends, scholarships and jobs for our shareholders. We have made a decision to invest in ourselves and start our own business in an area that we know in great detail and are passionate about. Deloycheet, Inc. would like to introduce you to Alaska Monster Moose Transporters, phase one of three towards building a successful tourism business. We will begin with the fall season activities and it will surround creating a transporter hunting business where clients will purchase their own hunting license for any game eligible to be hunted in Unit 21E. It will be our job to transport them.
With this new business, we will not only be able to hire our shareholders in Holy Cross seasonally, but we will have an opportunity to manage/patrol our lands, and distribute any game meat to families or other shareholders outside Holy Cross (you pay freight).  Our shareholders combined have hundreds of years' experience navigating our land and waterways as well as hunting in the area. We will hire shareholders to transport and work for us in our AMMT camp and as we renovate our Deloycheet building in Holy Cross to lodge Clients. We can serve Clients while taking care of our land and properly take care of our moose. We are a responsible company and will be responsible and safe with the environment and animals. Following is a description of our new business.
Alaska Monster Moose Transporters (AMMT) LLC, a wholly owned subsidiary of Deloycheet, Inc. an Alaska Native Village Corporation. Alaska Monster Moose Transporters will offer Clients transportation services to a self-guided and drop off hunt. We will be the first to welcome Clients to 139,000 acres of privately owned prime Alaskan land over populated with moose. Clients will be able to enjoy our beautiful, majestic land for the hunt of a life time. AMMT is affordable, professional, experienced, licensed and insured. We plan to welcome clients in September, 2016. See the web site www.alaskamonstermoose.com for more information.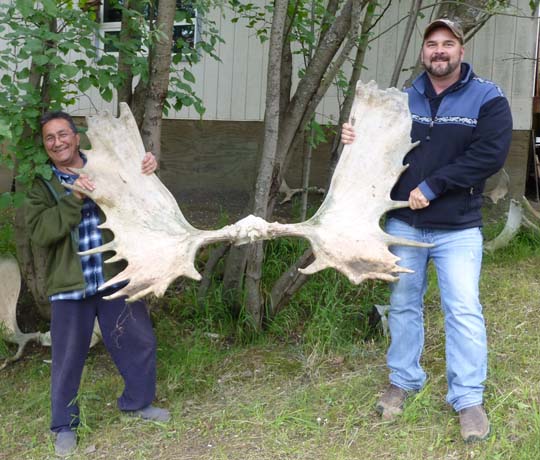 Deloycheet Board Member, Ronnie Dementieff and AMMT Project Manager, Darin Yates holding a monster moose rack.